XD I came up with one of my crazy late night ideas. We should form a band!
Now if you don't want your face show ypu can blur it out or put a screen over it. Anyways what my idea is is we write stuff and perform it. Taped an then we could put it together and then post the video all over. XD Of course just with our VMKC names and face hidden (Optional) So tell me what you think. And if you like it what could you do?
_________________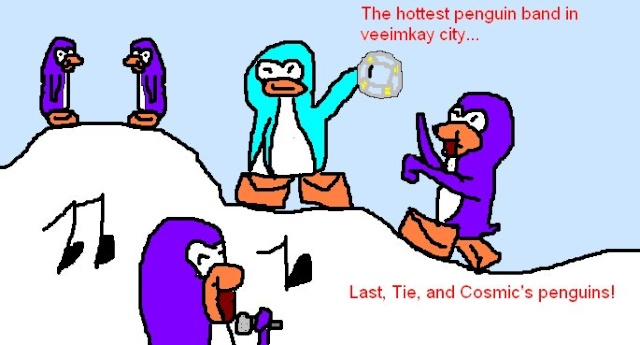 Tiedyegirl

Jr. Member




Number of posts

: 924


Age

: 23


Humor

: Just say no to Disney Pop.


Mood

: Happy


Spouse

: Nobody yet.


Children

: Are Rocket and Fire still valid?


Favorite Color

: turquoise and purple


Favorite Band/Singer

: No real favorite ( I like allot of singers and bands)


Best Friends

: Last, Ace, Cosmic, Issy, and Shay Shay!


Favorite Song:

: Please fill in


Notepad

: Hiya Jade! Guess what u are now added to mah BFF's list Cosmic


Registration date :

2008-10-16



Thatd be awesome! I call singer! I dont play any instruments so thats the only one i can be...
_________________
BLOOP


Ace_Archer

Dev





Number of posts

: 302


Age

: 21


Location

: at the national deep dish pizza convention


Job/hobbies

: does being addicted to the computer count?


Humor

: kitty go woof!!!!!!!!!


Mood

: Giiiizbert


Spouse

: sorta dating tie in the rpg....


Children

: i dont have any..


Favorite Color

: the primary colors


Favorite Band/Singer

: TOBYMAC = PWNAGE!!!!!!!


Best Friends

: last,cosmic, tie, blue, light,


Favorite Song:

: diverse city - tobymac ^^


Notepad

: - scribbles all over notepad - muhahhahahahah!

LOVE U REHCRA! ^^ Cosmic

I LOVE YOU LIKE A SISTER TOO COSMIC!-ace

^^ Sweet! ~Cosmic

lol - ace

RAWRRR


Registration date :

2008-12-08



sounds interesting but Shawnte and I cant play anything besides the piano/keyboard
_________________

Islana

Top Poster





Number of posts

: 348


Age

: 24


Location

: Being sat on by Last


Job/hobbies

: drawing.. piano.. listening to THE BEATLES 8D


Mood

: I LOVE SIR JAMES PAUL MCCARTNEY!


Spouse

: Single.....and..Loving it!


Children

: Please fill in


Favorite Color

: Pink


Favorite Band/Singer

: The Bealtes


Best Friends

: Please fill in


Favorite Song:

: Please fill in


Notepad

: i must get u an x-mas gift mah dear islana so...im me!
Cosmic


Registration date :

2008-11-05




---
Permissions in this forum:
You
cannot
reply to topics in this forum